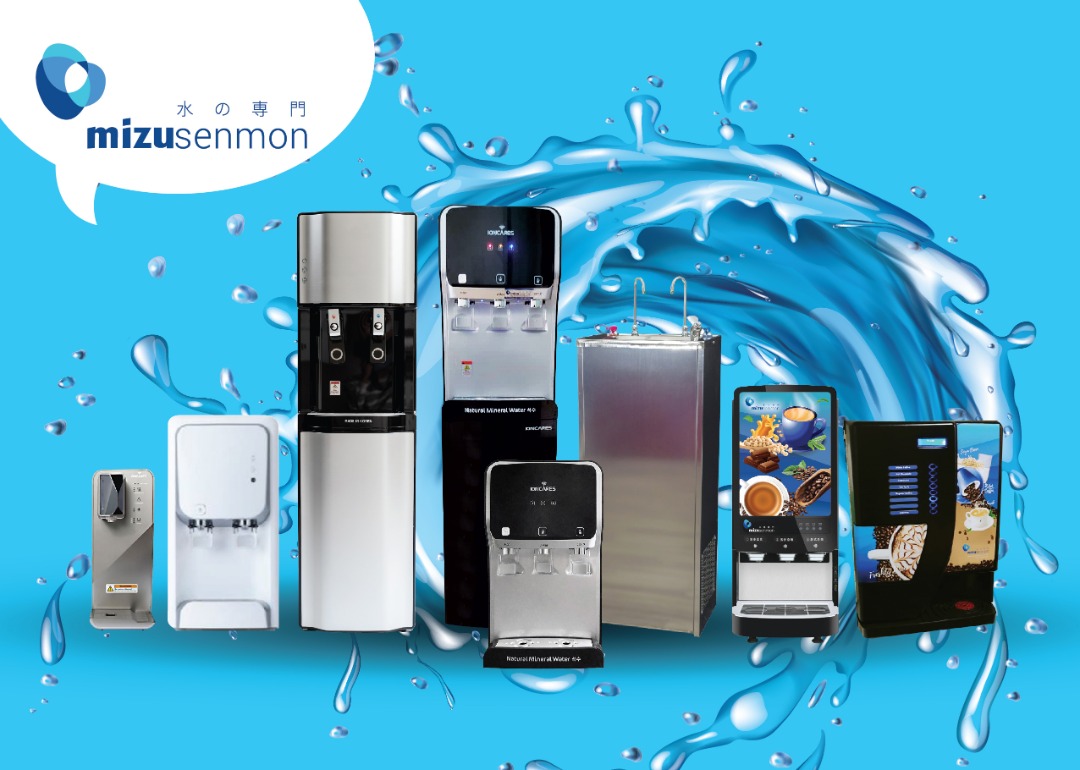 About Mizusenmon
Since its inception in Japan, Mizu Senmon has earned a strong reputation for delivering the best quality products that are second to none and has now stretched its reach to the shores of Malaysia, bringing along years of experience and its unrivaled expertise in water solutions. Mizu Senmon (M) Sdn Bhd was setup in May 2010. Mizu has promoted a eco-friendly, healthy and comfortable lifestyle solution for customers. Mizu products range include providing sales & services for RO bottled water, water purification system, water dispenser, water cooler, coffee machine, RO water system, industrial water filtration system, coffee vending machine, espresso machine, juice dispenser and Japanese tea machine and other well-being home appliances.
Mizu Senmon (Japanese: 水の专门) as the name suggest in Japanese, is a water specialist that has thrived on to become a trusted name in providing water solutions that are environmental-friendly and technologically advance to help enrich the lifestyle and health of consumers. In view of this, we can conclude that we are currently the best water purification system & industrial water filtration system products as RO bottled water supplier in the market yet.
Having a source of fresh, pure, clean tasting water in the office is important. Offering pure water for your office has numerous benefits ranging from morale and productivity, cost savings, contributing to a green environment and more. But most importantly your employees deserve the best! Our company offers a wide selection of pure water – from RO bottled water, water filter, water purifier, outdoor water cooler and hot and cold water dispenser. Want to know more about filtered water, water purification system & industrial water filtration system for your office such as, RO bottled water or water purifier.
Mizu is always dedicated to look after your health and well-being by taking care of the water you consume. Whether you are at work, home or even at leisure, Mizu water cooler & water dispenser alkaline ionizer system will assure you of pure, clean and safe water, so that you can live life towards a healthy tomorrow. Feel the natural freshness of water, purified to the finest perfection for healthy living from our high quality but reasonable industrial water purification system & industrial water filtration system products. A wholesome lifestyle is now made possible by Mizu Water Filter System.
Mizu coffee machine can inspire to get the most out of break times. We offer to make a cup of tasty coffee in just 6 seconds. This device is a dual-purpose of coffee machine and drinking water dispenser, integrating heating, cooling and beverage mixer. When the device is filled with water in its barrel and connected to the power supply, it can supply cold water, hot water and quantified quality coffee drink. Enjoy all the amenities of our Mizu coffee machine services that are perfect for any business size.